Summer vacation looks a bit different this year so we're helping you embrace the STAY-cation!
We're all trying to stay closer to home this year and while that might mean your typical summer vacation was canceled, it doesn't mean there's no way to enjoy the summer. So, we've compiled a list of staycation spots within driving distance of Knoxville. Stay safe and enjoy!
1. Go to the Lake
Knoxville is full of some pretty great lakes with a variety of activities to keep you and the family busy during your staycation. Enjoy kayaking, stand up paddleboarding, boating, swimming at one of the many beach areas, or having a picnic with a great view! Check out this list of local lakes and their amenities -->
2. Hikes
If you haven't been living under a rock, you will have noticed that Knoxville is surrounded with beautiful mountains, which means there are hiking trails galore right in our backyard! Here are 9 of the best hikes in Knoxville:
Imery's Trail - There are a couple of ways to access the Imerys Trail, including a new lot being installed primarily for Ijams Crag climbers at Aberdeen Lane. But the main entry point is still the one at Meads Quarry, just past the Ijams Visitor Center.
Tharp Trace - Accessible from the Meads Quarry Parking Lot
The South Loop - Most hoping to tackle the South Loop will park at the Meads Quarry parking lot, but alternative parking can be found at the Anderson School, the main Forks of the River entrance, and the Dozer trailhead on Burnett Creek Road.
Ijams River Trail - From downtown Knoxville, take Henley Street south across the Tennessee River. Turn left on Sevier Avenue, left on Island Home Avenue, and follow Island Home Avenue, following signs for Ijams. Maps available here and at the Ijams Visitor Center.
Forks of the River - Two main parking areas provide direct access to Forks of the River, the main entrance of McLure Lane, and the Dozer trailhead on Burnett Creek Road.
I.C. King Park - Most I.C. King users will park at the North Entrance off of Alcoa Highway, which comes down to the main trailhead for the Lower Lake Loop and Lower Beginner Trails as well as the fishing pier. The other parking option is the more hidden South Entrance, which pulls down to the water
Seven Islands State Birding Park - Located in Kodak, TN along the French Broad River. This is also a great location for Paddlers.
House Mountain - The current "House Mountain State Natural Area" destination in Google maps will take you onto private property. To get to the parking lot, plug 9601 Hogskin Road in Corryton into any major directions app.
Norris Watershed - The system of trails wind along both sides of Lower Clear Creek Road. Visitors can park at the Lenoir Museum near the intersection of Lower Clear Creek Road and Norris Freeway.
3. Parks
Knoxville can boast that we have over 2,200 acres and more than 90 city parks! The City of Knoxville's website keeps a great, up-to-date list and details for all the public recreation areas in town...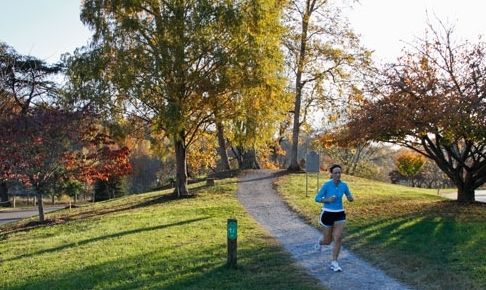 The Parks and Recreation Department offers a wide variety of activities for each member of the family to enjoy...
4. Your Couch
A vacation is all about relaxing right? Why not take some time off from the day-to-day's and get comfortable with some movies and popcorn. Maybe binge-watch the latest Netflix series or re-watch your favorite movie series. The Marvel ones should keep you busy for at least a week.
5. Brushy Mountain State Penitentiary
Brushy Mountain was the last place you wanted to find yourself – right in the middle of Tennessee's first maximum-security prison holding the state's most violent murderers, robbers, and rapists for over a century. With some sentences of 200 years or more, most of the men who walked through its gates would never be walking out. Come see for yourself just what life was like for lost souls at the End of the Line.
Experience America's most unique tourist destination, Historic Brushy Mountain State Penit...
6. Plan a Golf Week
We have world-class golfing all around us. With 13 courses in Knoxville and 9 within 20 miles, you have plenty of choices without having to drive too far. Not to mention, Crossville TN is only a short trip and is considered to be the Golf Capital of Tennessee. Check out some of the top-rated courses in our area...
What do you have planned for this summer?
If you're like us, the summer also means moving. If you're planning on selling your home this summer, let's talk.
Click Here